Annie Selke Review: Introductory Note
Annie Selke is a firm that designs and manufactures bedding and home d?cor products. Aside from bedding materials, Annie Seller also sells carpets, decors and pillows, clothing, furniture, bathroom materials, window treatments, pet collections, and other items.
They offer attractive, high-quality items for individuals who want to build lively, trendy, and life-affirming homes. And their style is everything but one note, ranging from bright and seaside to bohemian and futuristic. So, let the decorating fun begin!
Annie Selke Review: Overview
Your house should make you joyful because it is where life's significant and small moments take place. Annie Selke is a female-founded company situated in the Berkshires. Because they think that spaces are meant to be lived in, they create for every lifestyle and desire. They understand that a house is about more than just what's inside. They're devoted to assisting others in gaining access to the things that keep us safe: food, shelter, warmth, and rest. They create carpets and beds that stand out - and last.
Annie Selke:Who Is She?
The founder and Chief Vision Officer, Annie Selke, studied textile science at the University of Vermont and graduated from the Fashion Institute of Technology with a degree in buying and merchandising. Annie's work has appeared in hundreds of periodicals, television, and the Obama White House. She was awarded Massachusetts Small Business Person of the Year in 2010.
Annie Selke:Top Bedding products review
With their nicely balanced Pine Cone Hill bedding sets, you may transform your home into something spectacular. Shop Pine Cone Hill bedding for the perfect sheets, duvet covers, blankets, bedspreads, and quilts to complete your dream bedroom set.
Ric Rac Stripe Blue/Green Coverlet
Beachy, bright, coastal stripes of pieced fabric form a crisp repetition, cradling waves of applied ric-rac tape and raised embroidery inspired by the charm of a Caribbean island retreat. This lightweight coverlet is channel quilted and reverses to a plain turquoise back. The product is among the modern creations of Annie and Kit Kemp, co-owner and Creative Director for Firmdale Hotels. They are bonded by their love of bright and carefree design, redefining contemporary Arts and Crafts for everyday living. They are made by artists who believe in fair labor standards.
Pricing: $488.00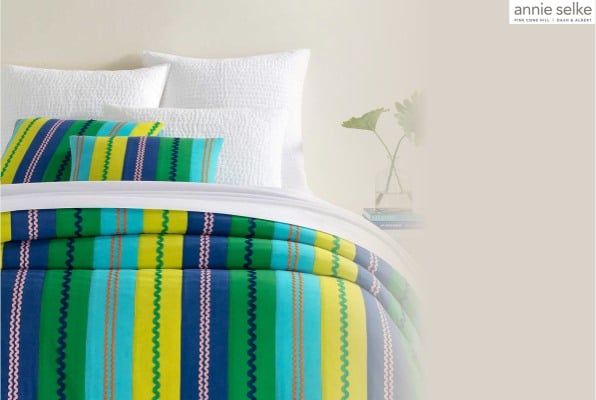 Annie Selke:Top Bath products Review
Pamper yourself by creating your ideal bathroom to fit your taste. You may create a stunning backdrop for your self-care regimen with luxury bath items. To transform your bathroom into a spa-worthy ambiance, choose from elevated necessities such as trays, jars, candles, toothbrush holders, etc. They designed a range of bathrobes, from easygoing cotton to warm fleece, to ensure you find the ideal fit for any season. It created a collection of custom-scented soaps, shampoos, conditioners, and lotions. They adore a decent bathrobe! Shop today to bring the spa experience into your own house.
Trio Pearl Grey Shower Curtain
They have discovered the perfect shower curtain: soft grey stripes on a traditional white background. Their shower curtain complements the Signature Banded White/Pearl Grey bath towels and Signature Pearl Grey bath mats.
Pricing: $128.00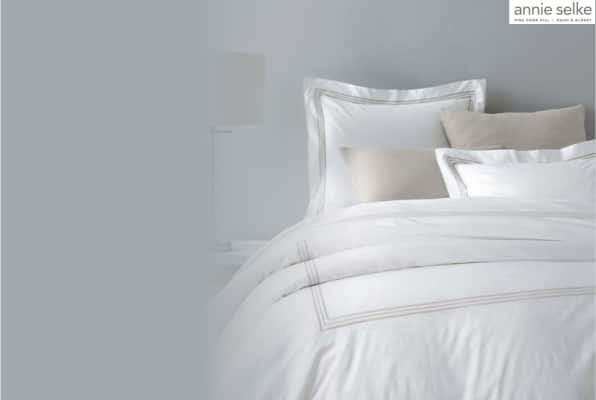 Annie Selke:Top decor products Review
Home Accents & D?cor: Add a touch of your particular flair to any space with Pine Cone Hill home accents and d?cor. Annie Selke provides the pieces you need to give your house a personal touch with a design you'll enjoy, whether you're looking for bedroom d?cor, decorating your living room, or d?cor items for your complete home!
Create your ideal place with Annie Selke's vivid and stylish wall art. Shop a large selection of high-quality designs with one-of-a-kind and imaginative accessories to completely change any space. Explore popular wall art collections, such as abstract art, landscape art, animal art, and more, to create visually appealing home d?cor. They have an extensive range of tabletop products that make every meal seem unique.
Aspen Mirror
This beautiful and artistic mirror, organically curved with a driftwood impression finish, brings a breath of the natural world into your wall scape.
Pricing: $298.00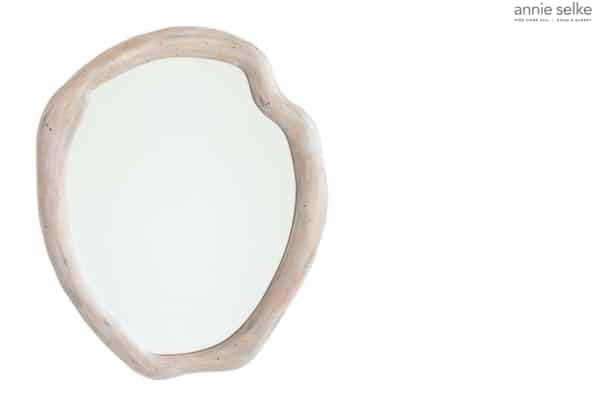 Annie Selke Review: FAQs
Do they offer customized bedding options?
They have an extensive range of goods in various patterns, materials, and forms, but they do not offer custom sizing. They recommend consulting an interior designer in your region for personalized bedding.
What about Annie Selke's customized rugs options?
Yes, please see the bespoke rugs part of their website. Furthermore, it may be feasible to have a more oversized rug trimmed down to the size you want; for further information, contact a rug specialist in your region before purchase.
Why are Annie Selke pillows trendy?
Their selection of Pine Cone Hill pillows and blankets is available in various shapes, colors, and patterns. Their products offer the simplest way to create spaces that reflect your individuality while still feeling warm and welcome to guests. Shop new pillows with exuberant embroideries, stunning designs, and a rainbow of colors; there's a great throw pillow?or two, or three? for your house. Their indoor/outdoor throw pillows provide you the adaptability you need while still providing the design you've been looking for. These pillows, made of polyester, polypropylene, and recycled PET, withstand the weather repeatedly.
Why Annie Selke gifts are in huge demand?
Looking for the ideal present? Shop their vast assortment of one-of-a-kind presents. You'll like their comfortable robes and wraps, bath and spa items, candles, home d?cor, and trendy accessories like tote bags, purses, and jewelry. Annie Selke clothing can add a stylish touch to your wardrobe. Explore Annie's hand-picked shirts, tunics, and pajamas.
Custom monogramming on totes and robes adds a personal touch! You choose the style, font, and color, and they will come up with your one-of-a-kind item. At their headquarters in Pittsfield, Massachusetts, each item is stitched by expert stitchers. Their accessories are both fashionable and timeless and include tote bags, purses, scarves, jewelry, and much more.
Annie Selke:Final Thought
Since its inception in 1994, the Annie Selke Companies have enjoyed consistent success. They think that your house should bring you joy. The most excellent approach to creating that happiness is to surround oneself with beautiful people, pets, and stuff. They've been creating bedding, rugs, sleepwear, and home furnishings for you to adore for over 20 years. They offer distinctive products that stand out and survive the test of time.
Annie Selke's strategy of showing each consumer the appropriate product at the right time and place was a success. Not only by the financial benefits but also by being faithful to the Annie Selke brand and ensuring that every part of the purchasing experience is simple for their clients.
You may also like -Hdcanada Furniture Reviews