You may have heard about the trend of beauty subscription boxes popping up everywhere. But do you really understand what they are and why ladies love them so much? A beauty subscription box is an amazing way to get new products from the comfort of your home. From makeup kits to skincare items, they cater to all your needs for makeup and skincare routines. You'll never have to worry about running out of products again when you subscribe to a beauty box.
Furthermore, beauty subscription boxes are hugely popular worldwide. These subscription boxes include products from different brands or a single brand. Moreover, Beauty subscription boxes are a convenient way to get beauty & skincare products right to your doorstep. The best part! You will get an amazing mix of travel-sized or full-sized skincare, makeup, and hair care products all year round.
Want to know about the best beauty subscription boxes? Then check out our list! We've compiled a list of the top 10 beauty subscription boxes available on the market. These boxes come with everything from head to toe you need for your skincare regime. From normal to oily and sensitive skin, these beauty subscriptions are available for all skin types.
Get ready to be amazed by the products of these beauty subscription boxes!


Birchbox | Overall Best Beauty Subscription Box
Launched in 2010, Birchbox offers monthly beauty and grooming products based on your preferences. The brand lets you choose whether you'd like a box of items picked just for you or a curated box chosen by Birchbox. Furthermore, the box you receive depends on your profile. Birchbox subscription boxes are great because you're only getting products suited to your skin type. Additionally, you can choose from samples, travel-size, or full-size options. They include famous brands such as MAC, Benefit, Kiehl's, and more. Shop now and get exciting benefits.
What's In The Box: Each month, subscribers get 2-6 products of their choice. Plus, a surprise from Birchbox to help find the best in beauty and wellness.
Price: Each monthly box is $15, with minimal savings for a 12-month plan. Moreover, subscribers also get the benefit of free shipping.


Allure Beauty Box | Best Affordable Beauty Subscription Box
Allure is a famous brand known for its top-quality beauty subscription boxes. The brand sends premium beauty products curated by Allure editors to your doorstep. This is one of the best beauty subscriptions you can get. To make it more interesting, each box comes with a mini-magazine that features tips and exclusive offers for subscribers. Overall, an Allure subscription box is affordable, trendy, and the best way to boost your beauty game.
What's In The Box: The Allure beauty subscription box includes editor-approved makeup and beauty products. Each Allure box comes with 7 products, including 4 full-size items.
Price: The cost of the Allure subscription box is $23 per month plus free shipping. However, the cost is less for quarterly and annual subscription boxes.


Glossy Box | Best Variety Beauty Subscription Box
Founded in Berlin in 2011, Glossy Box is the leading brand of luxury beauty samples. Each month Glossy Box sends beauty products to nourish and pamper your skin. The brand offers five new beauty products chosen by experts. Also, they bring safe, effective, and affordable products to their subscribers. Made from skin-friendly ingredients without chemicals, the products will make your skin healthy and glowing. Featuring a mix of full-size and deluxe-size products, the boxes tend to be themed. Why wait? Say goodbye to dull, dry skin and get healthy-looking skin with Glossy Box subscriptions. Buy now and get the best deals and discounts.
What's In The Box: Filled with five makeup, hair & skin care products from top brands, Glossy Box includes experts selected items. And delivered to your doorstep every month.
Price: Get the perfect plan starting from just $21 per month, along with free shipping. However, the cost drops down to $18 per month when you subscribe to an annual plan.


Kinder Beauty Box | Best Vegan Beauty Subscription Box
Kinder Beauty Box was founded by actresses and ethical entrepreneurs Daniella Monet and Evanna Lynch. When it comes to clean beauty products, Kinder Beauty Box is a perfect choice. This subscription focuses on giving 100% vegan and cruelty-free products that care for your skin as well as the environment. They feature brands like INIKA Organics, 100% Pure, Franklin & Whitman, Andalou Naturals, and more! Furthermore, Kinder donates a portion of sales to animal rights and environmental causes.
What's In The Box: This beauty subscription box contains five cruelty-free items, including two full-sized products. You get products ranging from skincare, makeup, haircare, and accessories.
Price: Kinder Beauty Box costs $26 a month, along with free shipping. The price drops to $23 a box with a prepaid 6-month plan.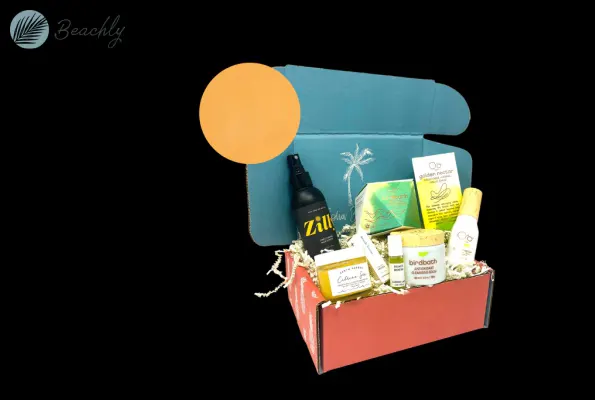 Beachly | Best Clean Beauty Subscription Box
If you love beach-inspired products, then this is the box for you. Each season, Beachly sends you a box of premium, beach-inspired products worth up to $100. With all the beauty essentials, you'll feel smooth, refreshed, and ultra-nourished. Moreover, Beachly offers high-quality feminine products that you can trust. Every season, a box arrives at your doorstep with savings of at least 60% off retail. Click here and enjoy the benefits while shopping.
What's In The Box: Each box contains 4-6 beach-inspired, cruelty-free, clean beauty products for skin, hair, and body care. Furthermore, the Beachly box contains lip balms, fragrances, cleansers, moisturizers, hair masks, and nail polishes.
Price: Your Beachly box costs $29 per box.


See New: The Skincare Box | Best Natural Beauty Subscription Box
See New offers a thoughtfully curated collection of skincare and wellness items. The brand sends clean products every two months to treat your skin with a luxurious experience. See New Skincare Box is the best beauty subscription for those looking for clean and sustainably sourced products. Some of the brands they feature are MetaPora, Scentuals, Honua, CLN & DRTY, and more! See New Skincare beauty subscription boxes focus on a single brand for each month. Shop now and get exciting deals on all products
What's In The Box: Featuring 4-5 products in every box, you'll discover an array of cult favorites paired with new products.
Price: Each month See New Skincare box costs $56. However, subscribers can save up to 5% when prepaying for more months!


Singles Swag | Best Beauty Subscription Box For Single Women
If you want to focus on healthier skin, the Singles Swag beauty box is the one for you! The box comes with fabulous beauty, fashion, food items, and one surprise product. It is one of the best women's subscription boxes as it contains organic beauty solutions. Get this to get a luxury beauty experience from the comfort of your home. Singles Swag contains top-notch quality luxury products that suit all skin types. Great discount on Singles Swag.
What's In The Box: Each month, you'll discover organic bath & beauty products, trending fashion accessories, delicious artisan-crafted foods, and exciting surprises. The Singles Swag box comes with 7-8 full-sized products.
Price: Singles Swag sends you an expertly curated box for just $39.99, including free shipping. However, the price drops when you subscribe to an annual plan.


Cocotique | Best Value Beauty Subscription Box
Cocotique is the best deluxe beauty and self-care box subscription service for women. Started by Dana Hill-Robinson, the box contains skincare and haircare products that suit every skin tone and hair texture. Cocotique helps women of color get premium quality self-care, wellness, beauty, and lifestyle products. Ladies, Pamper yourself with Cocotique subscription boxes and enjoy healthy-looking skin! Save money while shopping; just click here and enjoy.
What's In The Box: Each month, customers will receive a Cocotique Box with 5-8 expertly curated beauty, self-care, and lifestyle products (full size & deluxe travel size).
Price: Cocotique sends you a specially curated box for just $30.99, including free shipping. Additionally, 3-month subscriptions are $87.99, 6-month subscriptions are $170.99, and 12-month subscriptions cost $340.99.


Facetory Lux Plus | Best For K-Beauty Subscription Box
Facetory Lux Plus is one of the best beauty subscription boxes. The brand creates clean skincare products that suit your skincare routines. Also, they offer effective formulations that help support hydration to help skin thrive. Facetory focuses on providing products that are natural as well as paraben and sulfate-free. Each Facetory skincare subscription box contains products carefully handpicked by the team to provide users with the best experience. However, subscribers do not have the option to customize but don't worry, as their products are suitable for all skin types. Grab the best discount on Facetory.
What's In The Box: Facetory Lux Plus subscription contains 7 quality sheet masks and 4 full-sized skincare products.
Price: Facetory Lux Plus is a quarterly plan billed every three months for $49.95 / month, including free shipping.


Lookfantastic | Best Luxury Beauty Subscription Box
Founded in 1996, Lookfantastic offers a monthly beauty subscription box curated around a theme. Aside from beauty products, you'll also receive a copy of the UK version of Elle Magazine. In addition, there's a handy booklet to provide all the information you need to achieve healthier and more beautiful skin. Save Maximum on all products. Simply click here.
What's In The Box: Subscribers receive at least 6 skincare, haircare, makeup, and body products with each delivery.
Price: The cost of the Lookfantastic beauty subscription box is $60 every month with free delivery.
Other Types Of Subscription Boxes
1. Food Subscription Boxes
Food subscription boxes are becoming popular among households. Generally, these boxes include groceries, meats, and snack boxes. Food subscription boxes are a convenient way for those who don't want to go out shopping for groceries or meat. Furthermore, some companies offer curated boxes while others allow for a custom order. However, with so many options available on the market, finding a food subscription box can be challenging. Check out our list of 10 Best Gluten-Free Meal Delivery Services.
2. Pet Subscription Boxes
Pet Subscription Boxes is a one-stop solution for all your adorable pet needs. They include a collection of healthy natural pet treats, chews, toys, and grooming products. These subscription boxes are loaded with goodies best for your furry friend. Today, there is a wide range of pet subscription boxes available on the market. Also, the boxes come with cute packaging and are a favorite among pet owners. Check out our list of the 10 most popular pet subscription boxes in 2022.
3. Tea & Coffee Subscription Boxes
Tea & Coffee subscription boxes come loaded with loose-leaf tea and coffee pouches. These subscription boxes help you brew coffee every day without any hassle. Simple Loose Leaf, Art of Tea, Sips by, and Free Your Tea are some of the best Tea subscription boxes available. Also, check out the best coffee subscription boxes, such as Peet's Coffee, Bean Box, Blue Bottle Coffee, and Driftaway Coffee.
4. Shaving Supply Subscription Boxes
When it comes to men's subscription boxes, the shaving supply box is the most common. Not to mention, men need to buy grooming products like a razor, shaving cream, etc., multiple times. So, getting a shaving supply subscription box helps them get all the items regularly from the comfort of their homes. Dollar Shave Club, The Art of Shaving, and Beard Octane are some of the best shaving supplies subscription boxes for men.
5. Kids Subscription Boxes
In addition to adult subscription boxes, Kids subscription boxes are also becoming popular these days. Kids subscription boxes usually include toys, craft supplies, or educational tools. These subscription boxes keep children engaged and help develop their learning skills. Secondly, all the fun activities and curated supplies make parenting easier. Fun In The Box, Kidpik, Pipsticks, Kidstir and Brick Loot are some of our best picks for kids subscription boxes.
6. Clothing Subscription Boxes
As the name suggests, clothing subscription boxes come with clothes for men, women, and kids. Aside from giving your wardrobe a boost, you also get fashion guidance from the stylists. Just share your preferences, sizes, and budget, and a stylist will curate items and ship them directly to your doorstep. Check out the best clothing subscription boxes, such as Stitch Fix, Le Tote, Rent The Runway, Gwynnie Bee, and Adore Me.
7. Books Subscription Boxes
If you're an avid reader, book subscription boxes offer a convenient way to connect with new releases. Heroes Of Liberty, Subscription Addiction, and Introverts Retreat, are some of the best choices for book subscription boxes.
Frequently Asked Questions
What are the best beauty subscription boxes?
The best beauty subscription boxes offer you a curated burst of beauty products monthly or quarterly. Moreover, these subscription boxes help you pamper yourself daily. To ensure you find the best makeup & skincare subscription boxes, we reviewed the ten most popular beauty subscription boxes.
Are beauty subscription boxes worth it?
Yes, absolutely! Subscription boxes are a convenient way to try new products without spending huge on full-size options. If you're looking for the newest product launches and the hottest must-have products, then you'll love a beauty subscription box.
What is the best skincare subscription box?
The best skincare subscription boxes provide the nourishing products your skin needs. These services offer you the best way to get effective products while keeping your budget in check. From moisturizers and serums to masks and cleansers, the best skincare subscriptions offer expert-curated products. Also, they help in refining your skincare regimen.
Can I customize my beauty subscription box?
Yes, you can! There are some brands that provide customization options for subscribers while others don't. Based on your preferences, companies offer a curated collection of skincare, makeup, and hair care products. So, you need to check with the company's policy to see if you can customize your box or not. However, in our list, we've listed how much customization is possible.
Final Verdict
Beauty subscription boxes are awesome! They are the best way to try goodies from the best brands. All you have to do is pay for the subscription (monthly or quarterly) and get your box right to your doorstep. Each of these subscriptions comes with amazing products and perks. Also, Birchbox takes the top spot on our list of the best affordable beauty subscription boxes. This list features an excellent variety of skin, hair, makeup, and fragrance products from top beauty brands.