QuillBot Reviews 2022 | Best Paraphrasing Tool For Grammer
QuillBot- Quick Summary
What You Like the Best
You can increase your productivity with a faster processing speed and a higher character limit.
You can also quickly identify unchanged text using the Longest Unchanged Words feature.
With QuillBot's endless number of Freeze Words and Compare Modes, you can craft the result you want.
What You Dislike
QuillBot is useful if you want to feel for the platform without spending money with the limited functions.
QuillBot is limited to the 10000-word limit. 
QuillBot's free plan does not allow you to use different modes, and you can only paste 400 words at a time.
Let us read the complete QuillBot Reviews to know more about the products in detail.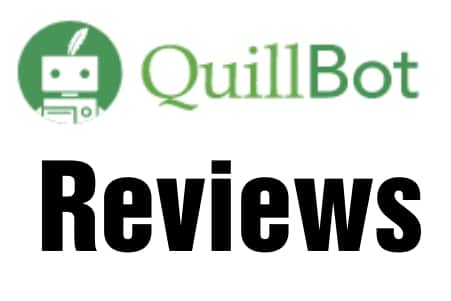 QuillBot Paraphrase Reviews In Detail
QuillBot is the best paraphrasing tool that uses machine learning AI to rewrite content to avoid Copyscape and plagiarism detection. Most content spinners or rewriter services replace words with common synonyms making your sentences read poorly. But QuillBot is the best tool to save time when rewriting sentences and paragraphs as you create content. It is also best to include only a few paragraphs rather than full articles to ensure that the original intent remains and rephrases each line naturally. Do you want a tool that modify, paraphrase or summarise your content? Then, QuillBot is the best option for you.
What makes QuillBot the best?
QuillBot features Readability score changes, Sentence count differences, Word count differences, Percentage of content altered, and Longest unchanged words.
They offers Google Chrome, Google Docs, and Microsoft Word extensions, allowing you to rewrite content without visiting their website.
QuillBot also provides API access, which you may purchase on the website.
QuillBot takes sentences and rewrites them with artificial intelligence to ensure consistency and originality.
Their Premium Version overcomes the features of the Free version. The premium version allows you to rewrite larger blocks of text up to 10,000 characters and more modes to rephrase your content.
Reviews on the Best QuillBot Products
QuillBot Free- QuillBot offers Free Plan that features
5000 character limit in Summarizer
700 character limit in Paraphraser
2 Sentences processed at once
3 Word Flipper options
3 Writing modes
QuillBot Premium- QuillBot offers Premium Plan that features
25000 Summarizer character limit
10000 Paraphraser character limit
15 Sentences processed at once
4 Word Flipper options
7 Writing modes
Freeze Words and phrases
Compare Modes (only on Desktop)
Longest unchanged words
QuillBot Paraphrasing Tool Pricing
Free QuillBot– QuillBot offers to use the Free Plan for free. 
QuillBot Premium- QuillBot pricing for Premium Features as
Monthly- Monthly Plan costs $7.95 and is billed monthly.
Semi-Annual- Semi-Annual Plan costs $4.99 for one month. Total billing costs $29.95 for six months.
Annual- Annual Plan costs $3.33 for one month. Total billing costs $39.95 for 12 months.
FAQs
Is QuillBot Legit?
Yes, QuillBot is legit. QuillBot is more secure and reliable than other free plagiarism removers. Furthermore, it modifies the words and the sequencing of a statement, which protects you from the TURNITIN software.
Is QuillBot Worth It?
Yes, QuillBot is worth it. QuillBot allows you to get up to 20,000 more characters to work with, to process 7x the number of sentences once, and four additional writing modes, among other things. If you enjoy QuillBot's free features, the Premium features will be worth it.
What are the QuillBot Alternatives?
Are you looking for brands similar to QuillBot? Here are some QuillBot Alternatives. Check out the features, competitors, and pricing of QuillBot to other paraphrasing tools. Some alternatives include Spin Rewriter, The Best Spinner4, CleverSpinner, Spinner Chief 6, Chimp Rewriter, WordAi, Content Professor, Spinbot, etc.
Final Thought About QuillBot
The best part about QuillBot is that you don't even need to register for using the paraphrasing, grammar checking, and summarising tool. Its free version includes three quill-modes, i.e., Standard, Fluency, and Creative. To access the Creative Mode, you must first register with QuillBot. Besides, their annual subscription is $80 per year, and they provide a three-day money-back guarantee if you are unhappy with the premium version.
You may also like – Yeslicense Reviews