Denturi Reviews 2022 – Best Quality DIY Denture Kits
Denturi Review – Quick Summary
What You Like the Best
High-quality video training
Designed to be simple enough for everyone
What You Dislike
Although a DIY denture kit is not a substitute for professional dental work, it can be a ray of hope for someone who is self-conscious about their smile.
It's simple to select the best DIY denture kit – you just need to take some time out of your hectic schedule and read reviews to arrive at a judicious choice.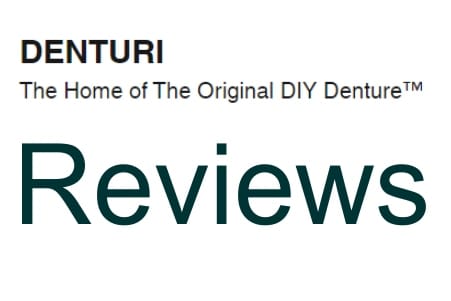 Denturi Reviews In Detail
You don't have to be an artist to use their DIY kits, but you must be able to manipulate objects with your hands. You must be able to understand and follow the written and video instructions. The keys to success are patience and practice, and they'll walk you through the process. The heat-activate pink gum substance is incredibly forgiving, and it may be reheat in hot water indefinitely. They're always available for assistance via email, and answer to all your inquiries promptly is 100% guarantee.
What makes Denturi the best?
The world's first do-it-yourself denture is now available. An exclusively new product for those who do not have access to professional dentures. The DIY Denture Kit is a cutting-edge denture manufacturing kit that allows you to restore your smile and confidence. The DIY Denture kit is sent discreetly to your door and includes everything you'll need to make a denture from the comfort of your own kitchen table. To make your new at-home denture, follow the given instructions and access the high-quality video guide.
Review on the Denturi Products
Denturi was found by a Register Nurse out of compassion for those who do not have access to professional dental services. After working as a nurse for thousands of patients, the founder realized that tooth loss has a significant impact on physical and mental health. And their product is not a substitute for professional dental or medical care but recognizes the realities that prevent these treatments from being available. Denturi's purpose is simple: provide people the opportunity to smile again, even if only for a short time, while they look for professional dentures.
Denturi Pricing
All orders are process and shipped within 24 hours, and many times the same day. All goods come with free USPS priority shipping. Simply go to https://diydentures.etsy.com and select the Klarna payment option to divide the cost over four installments. Because there's no easy method to estimate your mouth size at home, they provide a free replacement guarantee on all of their sizes and shapes.
FAQ's
Is Denturi Legit?
The Denturi mission, founded by a Registered Nurse, is to provide a temporary solution to those who do not have access to professional dentures. They feel that self-assurance is a fundamental human right. Tooth loss can happen at any time, and many Americans simply accept it due to a lack of finances. Hundreds of hours have been spent researching and testing different materials for their flagship DIY denture kits. The qualified and trained experts have put their heart and soul into each one to ensure your satisfaction with the product.
Is Denturi Worth It?
In order for your denture to work, it must be snug against your gums. Use the impression kit to create a plaster duplicate of your teeth and gums rather than moulding the pink gum material directly to your gums. Mixing dental putty, placing it in an impression tray, and biting down are all steps in the procedure. After the putty has hardened, you fill your new impression with the provided plaster, resulting in a little statue of your mouth that you may use to create your denture on the table in front of you before inserting it into your mouth.
Is Denturi a A Good Brand?
During the crafting process, the pink gum material is spread across your gums and fixed in place with dental adhesive (just like real dentures). With every package, they provide a Fixodent sampler.
Final Thought About Denturi
Everyone has the right to a confident smile. This denture can support eating most foods if it is properly made and kept in place using dental adhesive. It may not be suitable for tough items such as steak. If you decide to eat with your DIY denture, use extra caution because any denture (professional or DIY) might come loose and constitute a choking hazard.
You may also like – Blue Fat Freeze System Reviews